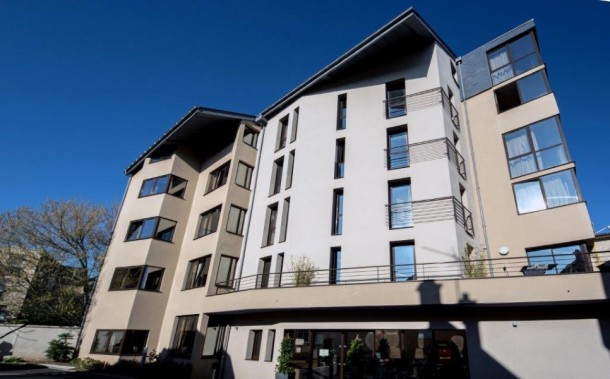 L'hôtel is the perfect place to book your stay. Located at the very heart of Chartres, be it for a night or an extended stay, whether you are travelling for a business trip or on a pleasant family trip to discover Notre-dame de Chartres, the city's Museum of Fine Arts or if you are here to chill at the local pool complex L'Odysée, we are always pleased to welcome you.
Fabienne Eleaume, the hotel's director and her team would like to take every opportunity to welcome you and make you feel comfortable in every possible way, we assure that your needs are met. Filled with an irrepressible desire to offer you our service with the highest quality and satisfaction, L'hôtel is now a member of the renowned Logis chain which is well known for its demanding quality approach, your comfort and your well-being.
The hotel, situated just a few steps from the cathedral, a UNESCO World Heritage Site is run by a couple of hotel and restaurant professionals who have devoted themselves for over 30 years to serve their clients.
You ought to enjoy this city with all your senses. We believe that you spend quality time and will carry memories of your best holiday ever back home. By taking walks in the evening, the city of lights will enthral you with its sounds and lights, a unique lively experience in the area. Our local cuisine will truly tempt your taste buds: take advantage of the know-how of Gil-Eleaume, " Maître-Restaurateur" at L'Écume Restaurant (on property) for new culinary discoveries.
L'Hôtel offers you 37 comfortable rooms, including a suite with a lounge, ideal for privacy. 7 of which were designed for people with reduced mobility. We offer regular bookings with a capacity of 4 to the maximum, we can also accommodate large families with additional beds and cots, if necessary. Each of the rooms is equipped with a unique design/decoration, with an intent to ensure you sound sleep during your stay.
We accept pets under certain conditions.
It's possible to check-in at 2:00 p.m. at the earliest. Our desk welcomes you in person until 9:00 p.m.
Our guest's safety is our top priority. Hence, the reception desk will be closed after 9:00 p.m, L'Hôtel can be accessed with a password.