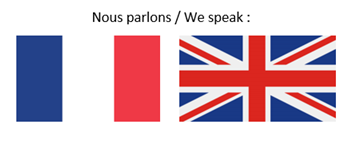 Located in the city center, our charming hotel is your cozy new home.
Situated behind L'Écume Restaurant, supported by a private courtyard, L'Hôtel is renowned for our guests to be the quietest stay in Chartres.
As a family owned franchise, we do our utmost to make our guests feel at home. After a long day or a business trip, we are always privileged to welcome you, to relax with our massaging jet showers. Also we assure that the food offered at our reputed restaurant L'Écume is served with the highest quality.
We welcome you in a warm and friendly way.
Internet access (cable modem and optical fiber), parking spots available on request.
Security guaranteed.
General Information
The breakfast buffet is served between 7 and 9.30 a.m. during the week, and from 8 to 10 a.m. on the weekend. It will be situated either in the restaurant or in the 1st floor dining room. You will find the information at the front-desk. We can also offer you a breakfast room service if you want. You just have to ask the front-desk of the hotel. In nice weather, terrasse is open.
The restaurant L'Écume is open from 7.00 to 9 p.m..
It would be a pleasure for our chef, to offer you a variety of French traditional cuisine. For late arrival, there is a possibility to have a cold meal prepared by the Chef, in your room. Menu cars is in the lift.
In the panoramic dining room "Les Toits de Chartres" on the 5th floor, any events can be organized (meal, seminar, showroom, mass …), on reservation only. Please inquire at the reception.
To call front-desk of the hotel, press 9, and for external calls, press 0 before your number.
 Ask reception if you need  to leave your bags.
In case of late return to the hotel, use de code behind your key on the digicode box.
 Waking calls available during reception hours by request.
A switch situated near the head of the bed allows to change the intensity of the light.
The rooms are non-smoking; thank you to respect it.
Thank you and enjoy your stay.
Discover L'Hôtel in pictures :
Please also find